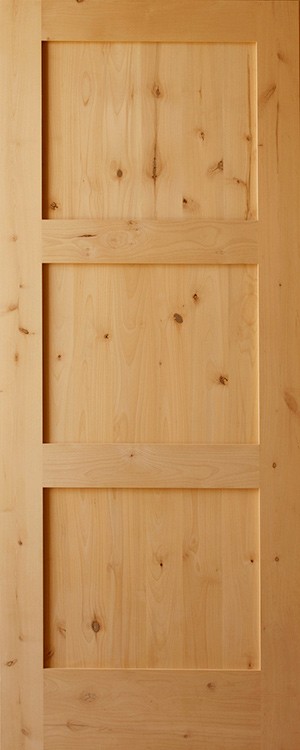 Craftsman 3-Panel Horizontal
1-3/4″ Thick – Interior Door
Learn More About This Door
CRAFTSMAN 3-PANEL HORIZONTAL, Interior Door, 1-3/4" Thick
Craftsman doors are often found in Bungalow style homes, widely popular in the early 1900s. Also called "Shaker" or Arts & Crafts doors, our Craftsman doors consist of a stile and rail frame, with simple square "sticking" (corner edges), and flat panels. Stiles and rails are the vertical and horizontal "frame" components respectively of the door. Custom Craftsman doors can include multi-panel wood designs and designs with decorative glass (lites), shelfs and corbels. Visit our custom door website at www.sunmountaindoor.com for more information.
This 1-3/4" thick 3-panel Interior door is made in the U.S.A. at our northern Colorado factory. This door is for Interior applications only—not to be used as an Exterior door. We source the Knotty Alder lumber used to make this door only from responsibly managed forests.
Key elements of this door include:
Warranty
This door includes an industry leading Warranty, with one-year limited coverage on unfinished (raw) doors, and five-year limited coverage on factory pre-finished doors. Please note that this extended five-year warranty applies only to the construction of the door, and not the factory pre-finish itself.
Engineered Stiles & Rails
Our stiles and rails are engineered to resist bowing and warping. We use industry leading 1/8" thick veneers, with superior quality Laminated Veneer Lumber (LVL) core material. Our LVL core is manufactured with a vertical layup, with laminated layers positioned at a 90° angle to the veneer surface for maximum stability.
Solid Panels
Panels are the large, wider boards used to fill the space between the stiles and rails. Panels on this door are 3/4" thick solid wood—much higher quality than pressboard panels with thin veneers, or hollow core panels. Panels are manufactured with small width boards, edge glued to create the larger width panel. Individual boards are random widths, glued in alternating grain patterns to balance the panel and reduce the natural tendency of the wood to warp or cup.
Bore & Dowel Construction
Our doors are assembled with bore and dowel construction. We use industry leading 1/2" diameter dowels. Stiles and rails are bored, glued and then doweled for optimum strength and stability. Panels fit into grooves in the stile and rail components, and "float" on rubber spacers to allow for minor expansion and shrinking of the wood with the natural moisture and environmental changes of the home.
Panel & Sticking Profile
This Craftsman door features a flat panel profile and a square sticking profile as shown below. "Sticking" is the decorative trim wood placed between the stiles and rails and the panels of the door.